Die Musiker
Leon Pollak
Violine, Vocal, Moderation
Leon Pollak is the founder and leader of Ensmble Klesmer Wien.
He was born in the Ukraine(1940) and studied the violin and music theory at the Liegnitz Conservatory in Poland. After immigration to Israel in 1957, he studied violin under Moshe Murovitz who was amember of the Israel Philharmonic. He was a trombonist with the Israel Army Orchestra from 1960 to 1963. From 1963 to 1967 he was a viola player in the Haifa Symphony Orchestra. He received voice instruction in Tel-Aviv. In 1967 he came to Vienna to study at the Vienna Music University. He studied violin under Professor Klaus Mätzl and Professor Roswitha Randacher and choir conducting under Professor Günther Theuring. From 1970 to 1974 he was a viola player in the Vienna Radio Symphony Orchestra. In the late 1970 he was the conductor of the Stadttempel choir (the central synagogue of the Jewish community of Vienna).
Since the foundingof the Ensemble Klesmer Wien in 1989, he has toured with the Ensemble in Austria, Israel, the Czech Republic, Slovakia,Poland, Italy, Germany and the Netherland. Since 2000 he has led workshops on klezmer music and Jewish folk songs with a Chassidic focal point.
The groups first CD "Ensemble Klesmer- Live in Prag" (EX 317-2) was a recording of a live performance at the "INTERNATIONAL MUSICA JUDAICA FESTIVAL" in Prag in 1994.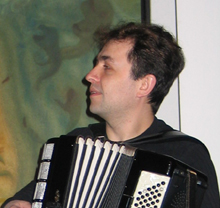 Alexander Schevchenko
Akkordeon, Bajan
Alexander Shevchenko was born in the Ukraine. He studied conducting and bajan (a Russian harmonica) in the Ukraine and in Russia (1986 – 1996). Already during this time he gave many concerts. As a soloist and as a conductor he won various prizes in competitions. He also taught at the musical secondary school in Brjansk (Russia).
In 1998 he moved to Vienna. He played with various groups, as a soloist and as a theatre-musician.
Tours took him to Japan, Germany, England, Switzerland, Holland, Russia, the Ukraine and Usbekistan. Shevchenko is part of the Ensemble Klesmer Wien since 2003.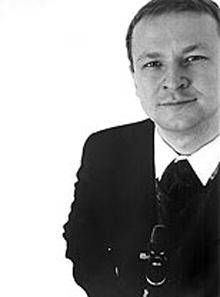 Maciek Golebiowski
Klarinette
1994 graduation from secondary school with honours.
1994-1999 studies clarinet at the Karol Szymanowski Music Academy in Katowice / Poland with Professor Andrzej Janicki
1998- to the present day studies clarinet at the University of Music and Performing Arts in Graz / Austria (Kunst-universität Graz; KUG) with Professor Stefan Schilling (solo clarinet of the Bavarian Broadcasting Orchestra
June 1999 Master's Degree in clarinet performance at the Music Academy in Katowice
1999 - 2001 Postgraduate course for clarinet at the University of Music and Performing Arts in Graz (KUG), 1st clarinet at the Symphony Orchestra of the KUG under the direction of Prof. Martin Sieghart; Concerts in Slovenia and in Austria
2000 - 2003 member of the "Ensemble für Neue Musik" at the KUG, recordings, concerts in Graz and Vienna
2000 chamber music class with Erich Höbarth (Wiener Streichsextett), and subsequent concert in Graz and Vienna
2001 chamber music class with Yossi Gutmann (Tel-Aviv Symphony Orchestra, Israel) and subsequent concerts in Graz
2001 after postgraduate studies at the KUG, final examination with honours
2001- to the present day continuation of studies as regular student at the University of Music and Performing Arts in Graz (KUG).
Member of Ensemble Klesmer since 2004.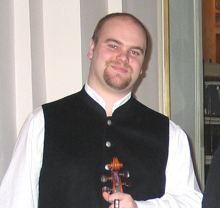 Michael Gmasz
Viola
Michael began to play violin at the local music school in Neusiedl am See followed by studies at the Joseph Haydn Conservatory in Eisenstadt.When he was 16 he changed to viola, and studied with Prof. Hans Peter Ochsenhofer at the Music university Vienna and with Prof. Herwig Zelle at the Vienna Conservatory until 2004. Besides his musical studies Michael went to the Musikgymnasium Wien and played in many different orchestras as there were: Wiener Jeunesse Orchester, Orchestra of the Vienna Conservatory, Franz Schmidt Chamber Orchestra, and others. He is still member of the Internationale Donauphilharmonie. Studies of musicology at the vienna University.
Michael is also member of the Tanzgeiger, an Austrian folkmusic group. He played lots of concerts in Austria and abroad on tours through Germany, Venezuela, France, India,…
In April 2004 he started to work for Radio Stephansdom as a music dj. The same year he joined the Ensemble Klesmer Wien.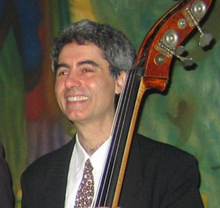 Michael Preuschl
Doublebass
Born in Vienna. Study of Bass under Proffessor Ludwig Streicher at the Vienna Music University.
He playd with various music groups such as Hasret Ensemble, Viva La Mexico, Cuarteto Vienna Tango.
He has participated in the series "Klangarten", in addition to composing for the stage and film.
He has been a member of Ensemble Klesmer Wien since 1994.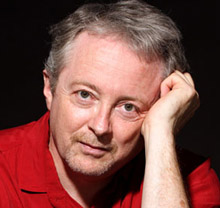 Peter Rosmanith
Percussion
Peter Rosmanith was born in the Waldviertel and moved to Vienna shortly after. He lived through the normal youth of a future musician, playing in various bands as percussionist, with performances in garages, pubs and churches.
At the music academy in Vienna, Peter Rosmanith took lessons in Jazz-drums and Percussion at the music academy in Vienna with Prof. Fritz Ozmec. In the meanwhile he devoted his time to foreign- European music and occupied himself with Indian, Arabian and Afro-Cuban rhythm and took tabla lessons with the famous Indian drummer Jatinder Takur, who lives in Vienna. He was and is participant at various international Percussion-workshops.
Peter Rosmanith's "Percussion box" ranges from the African "Balaphon" to the Arabian "Framedrum" and the Indian "Tablas" to the Hang and is supplemeted every now and then by ready mades – his hands transform nearly everything into music.
Apart from his engagement in diverse Worldmusic-Formations (Otto Lechner, Dobrek Bistro, Bethlehem All Stars, Marwan Abado…), Peter Rosmanith also works as a composer and musician for theatre and film productions as well as radio plays.
Peter Rosmanith is on more than 40 CDs as Sideman and Percussionist – 2000 he published his first Solo-CD "aans" and 2008 his second Solo-CD "schneesand".(extraplatte)
He has been a member of Ensemble Klesmer Wien since 2005.